Crypto Meme Of The Week #32
Much like the much more in-depth other crypto series of blog posts, this post will detail the crypto meme that has gone viral this week. Sometimes funny, often shocking, and always thought-provoking; crypto memes are a universal language across social media, one that everyone can understand. In an always-changing world where nothing is ever certain, these creative and often hilarious creations have as much influence on public opinion as traditional media outlets. So, let's have a look at one of the funniest crypto meme of the week.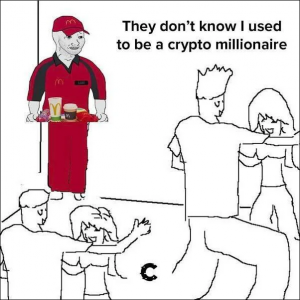 Now, this is what we are talking about when we say that nobody knows where Cryptocurrency's future is at. It's either a hit or a miss. Let's have a look at what other people had to say about the meme.
BossIDK Shared: In all honesty, I'd prefer to strike up a conversation with a former billionaire at a party than with folks whose interests include things like eating out and going on hikes.
AQ Shared: Bitcoin which I purchased for one hundred euros, is now worth four hundred. I regret not purchasing more in 2017.
Tango1777 Said: If you were familiar with the market, though, you would already know this. Most individuals simply mindlessly follow someone else. Then, it comes as a surprise to them. At this time, there are no indications that the pattern will change. The addition of a few thousand won't impact it at all. The price is not the cause; rather, it is the effect.
An Anonymous User Added: I believe that crypto will fall once again, and then in 2024 or 2025 it will rise once more. But with Bitcoin, you never know; all you can do is DCA and relax.
Balino90xw Said: I remember when I first saw the meme, I didn't think much of it. It was just another one of those things that are fun to think about, but that doesn't actually have any real-world impact. However, after spending some time watching the price of Bitcoin and other cryptocurrencies over the past few days, I've come to realize that these memes are actually influencing the market. The fact that people are being silly and making jokes about cryptocurrencies is causing people to pay attention to them, which is causing them to buy them.
Raspbery101 Shared: When the price of Bitcoin falls to $ 10,000, it will be the beginning of the end of cryptocurrency. Until then, we will see more crypto memes and jokes. In this industry, you can not win for losing. However, if you keep believing in the next big thing and keep investing your money, you will be able to achieve good returns in the future.
Rochy1298 Said: It's funny how the same people who say they have money always end up buying the dips. I'm happy that I didn't buy into this dip. I'm also happy that I didn't buy into the last dip. I'm not buying into this dip, either.
Conclusion
This article is meant to be a fun read and is not meant to provide actual investing advice. If you are looking to invest your money, I would recommend you do your research and invest in coins at your own risk. Investing in cryptocurrencies is a very high-risk, high reward game. Sometimes you will make a lot of money, and other times you will lose everything.